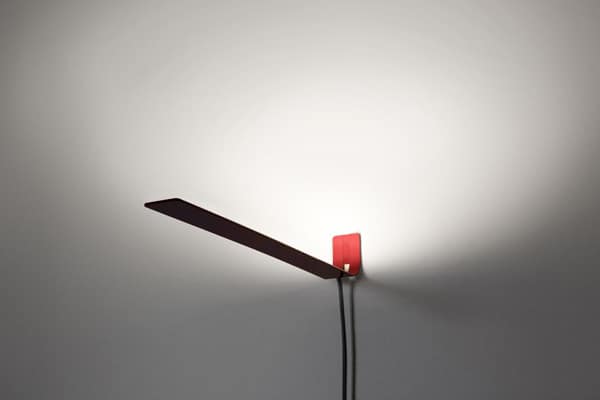 Today's Daily Lamp is a really minimalist but inventive take on uplighting in the home. Meet Terrence Seah's Cloudline Lamp — a true uplighter with a sleek design and nice lines:
Cloudline, designed by Terrence Seah for seller Livdin, comes in white and red, and both are $239 bucks.  From the Livdin page on the Cloudline:
Enhance your room with warm diffuse light and set the mood with touch-sensitive dimming. The Cloudline lamp is simple to wall-mount, and takes up no floor space. Pleasing illumination in an equally pleasing package.

FEATURES

Bright light equivalent to a 60W incandescent light bulb
Energy efficient 13W power consumption
Long lasting 20-year lifespan LED bulb
Aluminum construction with glossy powder-coated finish
Oiled walnut accent
Long braided power cord

SPECIFICATIONS

Lamp, 21.5″(L) x 2″(W) x 3.25″(H)
Dimmer Switch, 5.5″(L) x 1.75″(W) x 0.75″(H)
Power Cord, 6′ plug-to-switch, 8′ switch-to-lamp
It sure is beautiful!  Can you imagine five or six of these around a large room?
 Thanks, Uwofo!