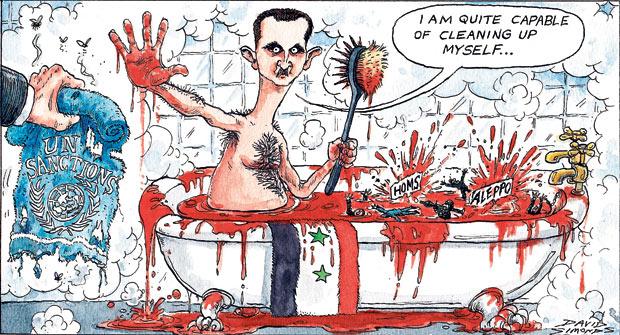 This is a particularly sad weekend in world events.  I find solace in the fact that tomorrow we will wake up and have another day on this planet — or we won't.  My hope is always that JimOnLight.com reach way out of the mainstream and deep into the realm of the Third World, as it is so pitifully called; unfortunately, if you're reading this today, you're probably having first world problems.  Something not to forget in our own country is that we have lots of Third World sections of America — I always wonder how we can live in a world where some people have cutlery made from gold, and others don't even have a certainty of a meal today.
Another stage collapse this weekend — this time in Toronto for a Radiohead show.  One dead, three wounded.
UN monitors have been pulled out of the Syrian state this weekend.  This is a huge deal if you're not watching the news lately.  Bashar Al Assad has increasingly being accused of ethnic cleansing in his country.  Now that the monitors from the United Nations have been recalled from the country, let's hope that we don't see another situation like we've seen over the last few decades like we did in Rwanda.  Let's hope that this doesn't take the turn of what General Dallaire saw in Rwanda — when the UN was pulled out of Rwanda, 800,000 people died.  That's right, I said 800,000 people were murdered.  It might be impossible to get an accurate figure of those killed since the uprising in Syria started, but the gist of the figures are near the 30,000 dead mark.  Almost 182,000 refugees have been made from people having to leave the fighting in Syria.
We may call ourselves a civilization, but we're nowhere near civilized.  Make a loud noise — if it's loud enough, others will make noise too.  We can stop this if we're loud enough.