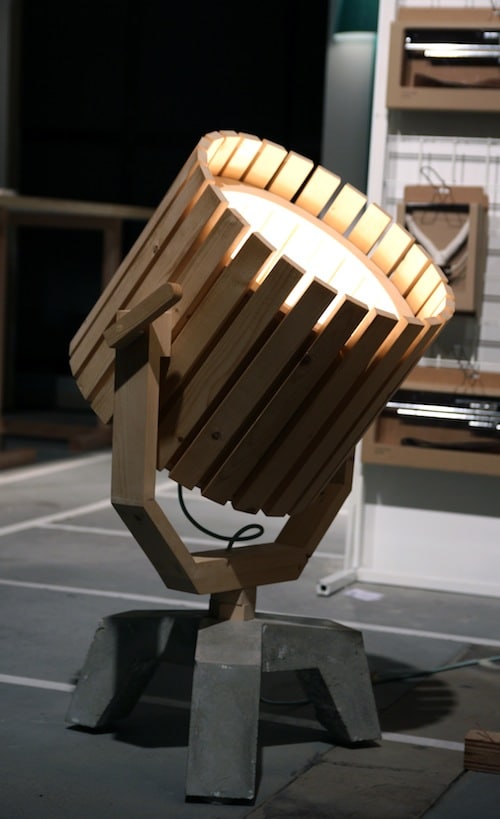 Wait, what's a "thang?"  I think it's a thang.  I thought, or thunk, anyway that the thing was a thang, but really, who knows what the difference is between things and thangs?  Not this guy.
…
…
Uh, hi everybody!
I found this really cool deconstructed floodlight design from Netherlands-based studio Nieuwe Heren.  The project was for an expo, but it's now on sale at the Nieuwe Heren website.  It's a conglomeration of wood and concrete, artfully constructed, and with lots of weird symbolic irony, don't you think?  I kinda love it.
Check out these shots from a few places about the deconstructed floodlight – some from the Design Milk blog, and some from the Nieuwe Heren website itself.  Pretty cool stuff, especially the process shots and the sketch!
Isn't that thing (thang) awesome?!
Cutting the interior ribs – don't tell OSHA!  Oh wait, this is in the Netherlands.
De-burring of the internal support tube.
Making of the concrete base.  CONCRETE BASE!
I love this – the process sketch!  This is probably one of my favorite parts of design – seeing the thoughts on paper.
I put together a gallery of the images below – images of the extra "thang" is in the gallery – a cable reel design that studio Nieuwe Heren designed, again I think for an expo.  Whatever it's for, it's awesome.  Check it out!
By clicking on any image, a gallery view pops up for your convenience!
Cool work, Nieuwe Heren!