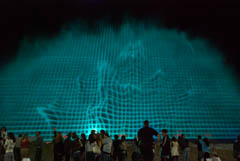 Santa Monica city government and the Santa Monica Arts Foundation produced an even in Summer 2008 called Glow 08 – it was an evening to morning event featuring music, light, and art installations and projects.  From the website and other articles I've read, it was pretty fantastic.  One of the projects I ran across was a HUGE water screen with projections on it "governed" by the excitement of the crowd – depending on how the crowd responded to the installation, it would process video visualizations accordingly.  How cool is that?!
The installation was named "Primal Source," and was created by Usman Haque of Haque Design and Research.  There's a small bit of background information at the project website.  From that site:
Specially commissioned by the City of Santa Monica, California, for Glow 08, Primal Source was an all-night performance/installation brought to life through the active participation of festival-goers (estimated at approx. 200,000 over the course of the night).

Located on the beach near the Pier in an area that had been specifically landscaped over the course of several days, and making use of a large-scale outdoor waterscreen/mist projection system, the mirage-like installation glowed with colours and ebullient patterns created in response to the competing and collaborative voices, music and screams of people nearby.

Responding to sounds emanating from the crowd, the system's modes changed every few minutes depending on how active the crowd participation was (more quickly when there was more noise). Each mode responded in a slightly different way to the individual voices and sounds picked up by 8 microphones distributed towards the front.

Some modes created "creatures" whose colour, shape and movement followed the frequency and amplitude dynamics of individual syllables and sentences picked up; other modes responded to wider collective phenomena, e.g. distorting a grid in response to the crowd volume, or creating a rush of wind through a wheat-field landscape.
Haque Design's specialization statement is pretty excellent – check it out:
Haque Design and Research specialises in the design and research of interactive architecture systems. Architecture is no longer considered something static and immutable; instead it is seen as dynamic, responsive and conversant. Our projects explore some of this territory.
Also check out the Processing and Pure Data websites, both products used in the creation and production of the installation.  Processing is an open source language that processes images, animations, and interaction – and Pure Data is a real-time graphical programming environment for audio, video, and graphical processing.  Both of these open source products are free.  Yes, free.

Primal Source (video documentation) from haque d+r on Vimeo.
Thanks, Interactive Architecture!