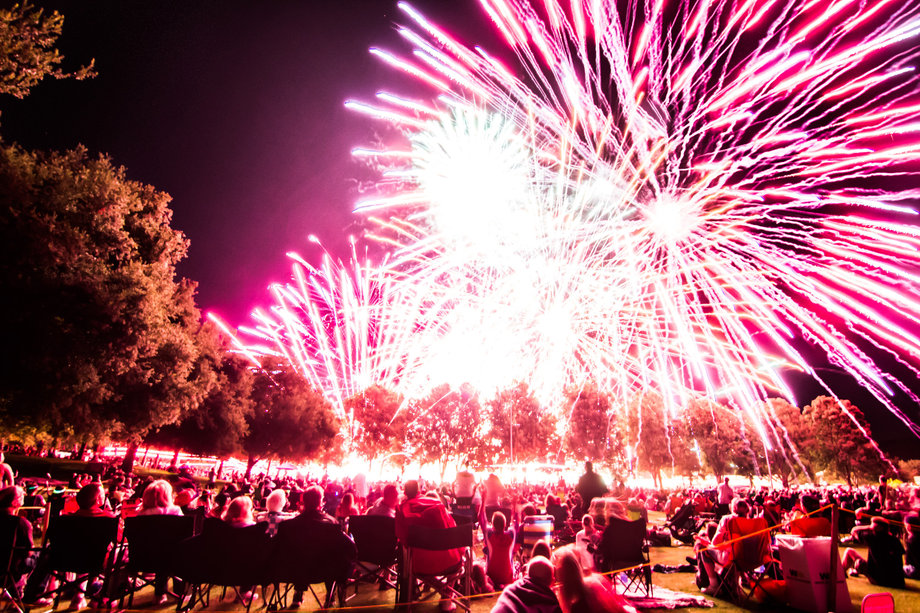 Last night when all of the people in my dad's neighborhood were out busting off what sounded like Class B fireworks, Simi Valley, California experienced a bit of bad fireworks juju, injuring at least 36 people for burns and other related injuries.  From the videos of the accident, you'll notice a mortar shell flower-potting (which means it explodes either inside of the tube, or right as the propellant charge reaches the open air at the top of the tube), which then tipped over other mortar tubes, shooting shells right into the crowd and igniting other tubes.  Amazing, isn't it?  Entertainment is a bigger/better/faster/harder business, and when something goes wrong, it always really goes wrong.
From an article at the LA Times, bolding is mine:
At least 36 people were injured or treated at Simi Valley-area hospitals after a major malfunction at a fireworks display sent pyrotechnics shooting into a crowd of spectators.
An estimated 8,000 to 10,000 people were gathered at Rancho Santa Susana Community Park in Simi Valley Thursday to watch the show when, officials believe, at least one pyrotechnic prematurely exploded in a mortar, causing a chain reaction that tipped over other fireworks and launched them into the crowd of spectators.

Simi Valley police initially said 28 people were injured, including 20 who were taken by ambulance to area hospitals. Additional victims sought treatment on their own.

Simi Valley Hospital treated 26 patients, 14 of which came in by ambulance, according to hospital spokeswoman Alicia Gonzalez. The patients ranged in age from 17 months to 71 years, and 12 were children, she said.

Twenty-three patients have been treated and released, she said. One was transported to an area burn center. Two remained at Simi Valley Hospital on Friday morning, but were listed in fair condition.

The injuries included burns, shrapnel, trampling wounds and chest pains, Gonzalez said.
I'm glad to hear of ZERO fatalities.  Wounds may take time to heal, but that time can at least be filled with love.
Check out some video of this accident — the initial flower-pot explosion starts a chain reaction of disaster that everyone close to is lucky to have lived through.
This is the most incredible view of the accident — just the magnitude of that size mortar shell exploding at ground level is almost unbelievably scary:
From ABC News:
A different ABC News affiliate, incredible video of the display:
Established and accredited fireworks company Bay Fireworks from Bethpage, NY was contracted to perform the Simi Valley fireworks display this year.  Bay has assured news outlets that their employees are highly qualified; we here at JimOnLight just hope that the Bay Fireworks crews from the Simi Valley event are all safe and secure, too.
Images of the cleanup and investigation today (July 5, 2013):
Have you ever seen the setups for fireworks displays?  There are some massive displays out there — the one here from last night in Peoria, IL was also pretty massive:
When I mention "mortars," I'm talking about a tube that a fireworks shell goes into that guides it upwards — the desired effect.  These images are from fireworks displays across the world — notice the common theme of pipes and tubes?  The older industry way of setting up displays like this was with steel pipes (which would probably have avoided last night's disaster in Simi Valley), but the common usage mortar tube is now PVC or other plastic resin.  Like so:
Thanks to the LA Times, Larry Crump's Fireworks Pages, and Reuters.