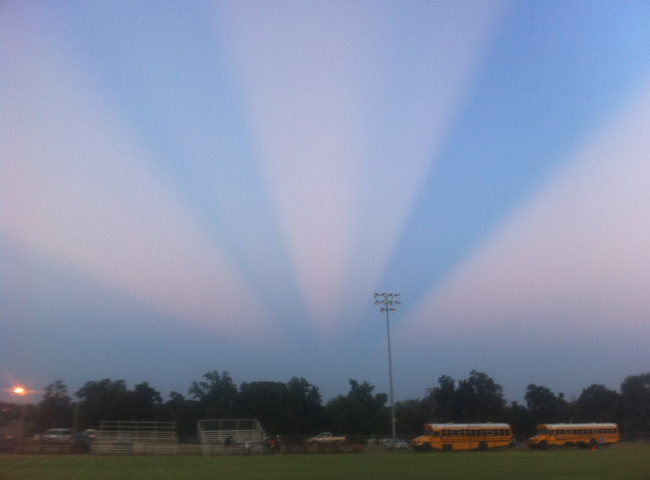 My friend Millisa sent me this pic the other day, and it kinda blew my mind:
Those rays!  Holy crap!  SO BEAUTIFUL!  That's the stuff that paintings are made of, right?  Funny enough, they actually have a real name and an explanation – they're called crepuscular rays.  It's kind of an unfortunate sounding name, don't you think?  It sounds like something you'd find on the bottom of a ship cruising Lake Michigan.
Gross.
But the principle is very awesome – atmospheric optics dictates these crepuscular rays as beams of light that appear to emanate from one single point in the sky, from the sun.  A cloud, mountain top, or some other obstruction is what causes this phenomenon.  Honestly, it's no different than the beam that comes out of a moving light, conventional light, or anything of the sort.  It's a blockage – just like the aperture of a lighting fixture is a blockage to only allow enough beamage out of the light to make it diverge, or appear to diverge.  Like this:
There are also anticrepuscular rays, too – they are the opposite of crepuscular rays, and typically you have to have your back to the sun to see them.  Anticrepuscular rays appear to converge at the antisolar point, which is the exact opposite point in the sky from the sun.  Like this:
Cool.  I like to learn something new every day!