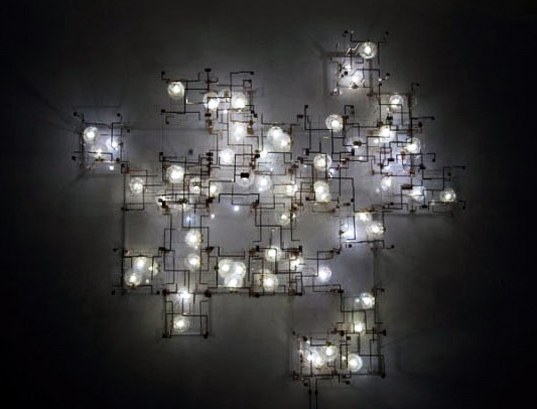 I apologize for the late hour.  I'm trying to adjust my sleep schedule to that of the dead so I can rock at LDI.
Jax sent me a link in a Skype chat one night – the more I looked into it, the cooler it became to me.  It's a wall-art-lighting-fixture-amalgamation-of-temporarity at its finest – designed by Ralph Nauta and Lonneke Gordijn from Drift Studio.
I think I just invented the word "temporarity."  Does that exist?  Oh, I am ridiculous.
Meet Fragile Future III:
Fragile Future III tells the story about the amalgamation of nature and technology. In the distant future these two extremes have made a pact to survive. Fragile Future III combines an electrical system with real dandelions in a light sculpture that is predestined to overgrow a surface.

This system is different from the earlier versions because we can build up 3D constructions with the newly developed modules. Therefore we have total freedom in creating different light installations. This project is a collaboration with the London based Carpenters Workshop gallery. The installations are limited and can be bought true them. We also produce custom installations on commission. The installations are delivered on Plexiglas so they can be easily installed and reinstalled. 5 Spare Dandelion light bulbs are included.

One module is a visible circuit with 3 dandelights. This module system is ease to attach to the next one (in unlimited different ways), meanwhile the power will always continue correctly true the installation. So it is possible to create a composition from just a few, up to 500 modules, according to the space and atmosphere.

Fragile Future III is far less fragile then Fragile Future I and II. Therefore easy to install and maintain. Both Fragile Future I, II and III are limited and built by our company.
Right?
Okay, I am SO GLAD that the extra Dandelion lamps are included! Can you imagine?! One accidental wind gust in the fall, and BOOM – another one of those crazy wall hanging light things from Target that lost a piece and now looks like a garage sale art masterpiece.
Pretty cool.
Thanks, Inhabitat!