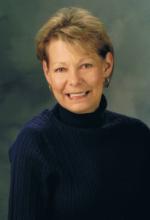 Oh wow.  What a bummer of a thing to read.
ETC's long time Promo and Ad Manager, Jody Hanson, passed away this last weekend.  I just found out about it.  That lady was awesome – a hard driving deal maker with a respect and knowledge of the lighting industry that we all call home.  Jody understood how important the world of blogging and Social Media was to the industry, and she was supportive of people like myself in the beginning of our careers.
We'll miss you, Jody.
From ETC's press release about Jody's passing:

Middleton, WI (2 June 2010) — A mainstay of ETC's Marketing department for over 13 years as the company's Promotions and Advertising Manager, Jody Hanson passed away on Sunday, May 30, 2010. The global family of ETC grieves the loss.
From January 1997, when Jody started at ETC, she brought her passion for professionalism to the ETC Marketing team, locally and globally. Entrusted with ETC's representation to the promotional media, Jody was well known and respected in the industry. She led countless successful promotional campaigns and projects for ETC — on every new product since the introduction of the Obsession® II lighting control console.
As Electronic Theatre Controls' Chief Executive Officer Fred Foster reflects, "Jody gathered together a truly creative team of people who produced more than 100 trade shows, hundreds of media placements, and uncountable hits on our website. They all followed her professional lead to produce a precise and complete image for ETC. We all miss Jody, but her impact on our lives will never fade."
ETC Vice President of Marketing Bill Gallinghouse concurs: "Jody had a unique ability to break down the largest and most complex objectives into manageable parts and guide them perfectly to fruition."
Born on January 10th, 1954, Jody was a Wisconsinite who made the Madison area her home for the last 14 years. She is survived by her husband John, and her daughter Emily.
A memorial will take place for Jody on Saturday, June 5th, 2010, in her hometown of Columbus, Wisconsin, at St. Jerome's Church, 1550 Farnham St., starting at 8:30 a.m., followed by a memorial mass of burial at 10:30 a.m.
In lieu of flowers, the family asks that people make donations to or volunteer time with their favorite charity.
Please use Cornerstone Funeral Services' online guestbook to express condolences to the family:
www.meaningfulfunerals.net/fh/obituaries/tribute.cfm?o_id=626959&fh_id=11053&s_id=B7DF14561337816249238C23C057EAAB