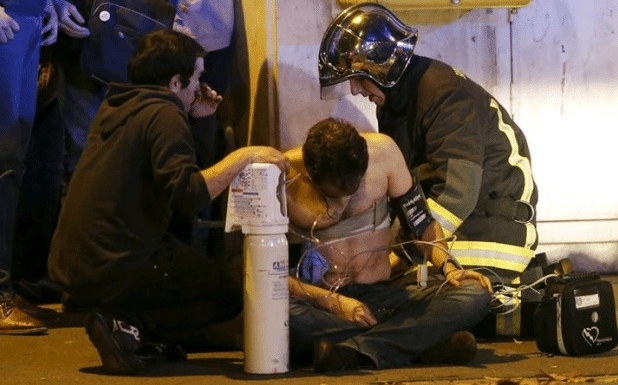 UPDATE 13 November 21:17
Something that is pissing me off right now and I cannot find a f*cking update is…IS THE CREW FROM LA BATACLAN SAFE AND ALIVE???
These motherf*ckers.  118 dead alone at the La Bataclan concert hall according to Paris National news at 8pm EST
I'm sad to report that some dirt ball scum bag terrorist assholes have attacked several venues in Paris tonight; a metal concert at the Bataclan Concert Hall in Paris, during a concert with the Eagles of Death Metal from California.  Reports are that over a hundred people are reported killed in the small theatre…  the crew, band, and assistants are still being accounted for, no one knows much right now, but what we do know is that the situation is fluid, and there is a live SkyNews report going on right now.  I can't promise how long this feed will be up, but please, it's the best connection for this on the ground:
Reuters says flights to Paris are being delayed in and out, not all airlines, but most.  These coward terrorists attack Paris, but I hope the world doesn't stand by this time.  So far, none of the coward douchebag Muslim terror "organizations" have claimed this yet.  Time will tell.
At 7:03pm EST, the report was that the BAND members are all fine.  What about the crew?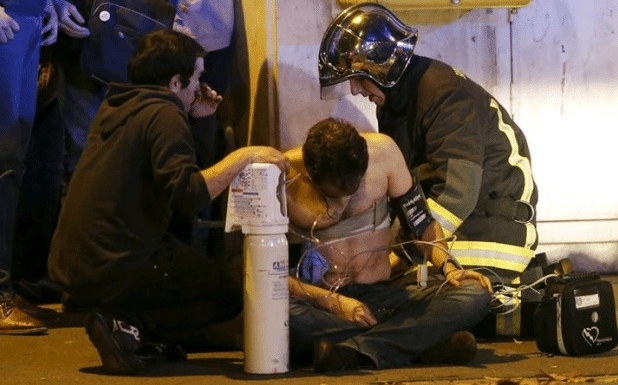 There were three attacks outside of Paris tonight — across Paris, officials are calling 158 deaths across the three attacks:
First attack was the Stade de France — 3 dead
Second attack was the Le Petit Cambodge Restaurant — 11 dead
Third attack was the concert at La Bataclan — 118 dead
As of 8:02pm according to AFP, these coward douchebags are dead, from a police raid.  We're hoping this is true, we'll keep up on this story.
President Francois Hollande made this commentary a few minutes ago — 8:02pm:
"My dear compatriots,

As I speak, terrorist attacks of unprecedented proportions are underway in the Paris area. There are dozens killed, there are many injured. It is a horror.

We have, on my decision, mobilised all forces possible to neutralise the terrorists and make all concerned areas safe. I have also asked for military reinforcements. They are currently in the Paris area, to ensure that no new attack can take place. I have also called a cabinet meeting that will be held in a few minutes.

Two decisions will be taken: a state of emergency will be declared, which means that some places will be closed, traffic may be banned , and there will also be searches which may be decided throughout Ile de France (greater Paris). The state of emergency will be proclaimed throughout the territory (of France).

The second decision I have made is to close the borders. We must ensure that no one enters to commit any crimes and that those who have committed the crimes that we have unfortunately seen can also be arrested if they should leave the territory.

This is a terrible ordeal which once again assails us. We know where it comes from, who these criminals are, who these terrorists are.

In these difficult moments, we must – and I'm thinking of the many victims, their families and the injured – show compassion and solidarity. But we must also show unity and calm.

Faced with terror, France must be strong, it must be great and the state authorities must be firm. We will be.

We must also call on everyone to be responsible.

What the terrorists want is to scare us and fill us with dread. There is indeed reason to be afraid. There is dread, but in the face of this dread, there is a nation that knows how to defend itself, that knows how to mobilise its forces and, once again, will defeat the terrorists.

French citizens, we have not completed the operations. There are still some that are extremely difficult. It's at this moment that the security forces are staging an assault, especially in a place in Paris.

I ask you to keep all your trust in what we can do with the security forces to protect our nation from terrorist acts.

Long live the Republic and long live France."

(Reporting by Tom Heneghan; editing by Ralph Boulton)
President Obama commenting on behalf of France:
Photos from Reuters and Al Jazeera:
Editor's note:
You coward terrorist bastards are literally signing your own death warrant.  I hope it tastes delicious when your fucking faces are ashes from the world putting you where you belong, which is in the fucking garbage can.  For every one of us you kill, one hundred are coming for you.  I would not fuck with North American stage hands if I were you either, you terrorist pricks.  We're not afraid of you.  You should be afraid for what you have done, your time is coming.
More websites and accounts to check out on this:
http://america.aljazeera.com/articles/2015/11/13/shooting-explosion-reported-in-paris.html
BREAKING: French police official says at least 100 people killed inside Paris concert hall where attackers seized hostages.

— The Associated Press (@AP) November 14, 2015
http://www.nme.com/news/eagles-of-death-metal/89703
https://twitter.com/5h55/status/665278434772389891/photo/1
http://www.huffingtonpost.com/entry/paris-attacks-photos_564660a9e4b08cda3488d3b2?8d5qm2t9
http://www.huffingtonpost.com/entry/paris-shooting-explosion_564651e4e4b0603773490a2f