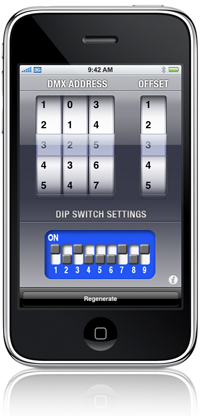 If you're an AutoCAD user, then you remember AutoBlock for AutoCAD – the lighting block tool that pretty much all of us AutoCAD users used back in the day.  Mike's come up with a great new iPhone app for we lighting designers and technicians – the iSwitch DMX dip switch calculator for iPhone!
The official press release:
iSwitch DMX iPHONE APP RELEASED
Michael Zinman, developer of the successful AutoBLOCK 2000, software for AutoCAD, has released iSwitch DMX for the iPhone or iPod touch. This is an easy-to-use calculator for addressing DMX devices and generating a graphical Dip Switch Layout.
Entering any number between 1-512 generates a graphical dip-switch layout in real-time.
Includes an offset picker and Regenerate button to quickly generate the next DMX Address and dip-switch layout for that address.
iSwitch DMX can be purchased directly though iTunes via the App Store under Utilities for $4.99. Follow this link to go directly to the iSwitch DMX site on iTunes:
http://phobos.apple.com/WebObjects/MZStore.woa/wa/viewSoftware?id=286911472&mt=8.
For more information, or to watch a video of this app, visit the website at http://www.lightingiphoneapps.com.
Go support the maker of AutoBlock! It's $4.99!